Mint Family
Wild Basil (Satureja vulgaris): In the mint family. It's dried leaves can be used in cooking but it is not as strong as commercial Basil. Found in open places and along roads. Location: Quehanna Wild Area.
Motherwort (Leonurus cardiaca): An alien in the mint family. Large, heavily veined, 3-pointed leaves with small pink flower whorls around the leaf axils. Grows to 3-4 feet along roadsides and spoiled areas. Used as a stimulant (name means "of the heart") and to treat menstrual disorders. Blooms June - August. Location: Flat Top Mountain, SNP, VA.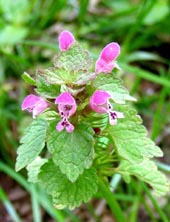 Purple Dead-nettle (Lamium purpureum): Alien. Heavily veined, overlapping heart-shaped leaves. Spoiled areas. Photo by Dimitri Tundra.
Others
Pale Corydalis (Corydalis sempervirens): Irregular pink flowers with yellow tips. Very dissected, irregular leaves. Location: Old Rag, SNP, VA. Photo by Ken Clark.
Bienniel Gaura (Gaura biennis): Flowers white (to pink with age). Note the cross-shaped stigma. 2-5 feet. Meadows. Location: Dragon's Tooth trailhead, VA.
Ragged Robin (Lychnis flos-cuculi): In the Pink family. Flowers atop tall, sticky stems. Five petals each divided into 4 thin lobes making the flower appear "ragged". Opposite, lanceolate leaves. Found in moist fields and medows. Blooms May - July. Photo by Anita Mueller.
Others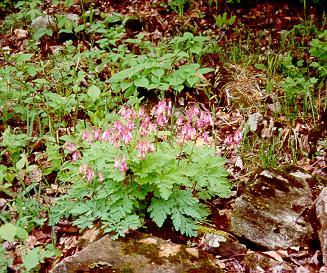 Bleeding Hearts (Dicentra eximia): Found along many trails in the MNF. These were along the forest road in Dolly Sods. Bloom late spring, early summer but earlier at lower elevations.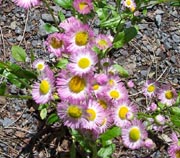 Daisey Fleabane (Erigeron annuus). Comes in white and pink. Found in sunny areas. Blooms June through October. The dried flowers were thought to prevent fleas in homes, hence the common name. Location: Mountainside Tr, Canaan Mt, MNF, WV.
Gaywings or Fringed Polygala (Polygala paucifolia): 2-3 inches tall. Blooms in May-June. Grows in the shade of trees in moist forests. Photo by Dimitri Tundra.
Teasel (Dipsacus sylvestris): Alien. Small flowers surrounded by prickly spines. Stems and leaves also prickly. Waste areas. Photo by Dimitri Tundra.
Others
Spreading Dogbane (Apocynum androsaemifolium): Shrub-like relative of the Milkweeds. Fragrant clusters of nodding pink bells. Long seed pods. Location: Dolly Sods, WV.
Intermediate Dogbane (A. medium): This is an intermediate species between the above and Indian Hemp. The flowers lack curved petals and is often more white. Fields and roadsides. Location: Cranberry Backcountry, WV.
Spotted Knapweed (Centaurea maculosa): Alien. June - August. Plants up to 3 feet. Leaves are multilobed. Fields, roadsides and waste places. Photo by Anita Mueller.
Tyro Knapweed (Centaurea vochinensis): Alien. Similar to the above but the leaves are thinly ovate and slightly toothed. Photo by Dimitri Tundra..
Others
Pink Lady Slipper (Cypripedium acaule): This odd orchid is found in dry forests, usually in colonies. Blooms April-July. Photo by Dimitri
Red Bud (Cercis canadensis): One of the first trees to bloom in the region. Grows as understory in the wild. These were seen along the C&O Canal along the border with Green Ridge State Forest, MD.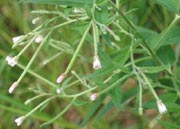 Purple-leaved Willow-herb (Epilobium coloratum): pink-white flowers less than 1/4 inch. Sharply lanceolet, toothed leaves. Prefers wet ground. Location: Cranberry Backcountry, WV.